In 2022, The MLFP diversity scholarship was open to students in academic good standing enrolled in their second year of the Master of Legal and Forensic Psychology Program, and covered the students' tuition for spring quarter 2022. Applicants were either a member of a historically underrepresented group in higher education (African American, American Indian/Alaskan Native, Native Hawaiian or Pacific Islander, or Hispanic-American), a first-generation college student, and/or had a history of overcoming a significant disadvantage. Three awards were given for spring 2022.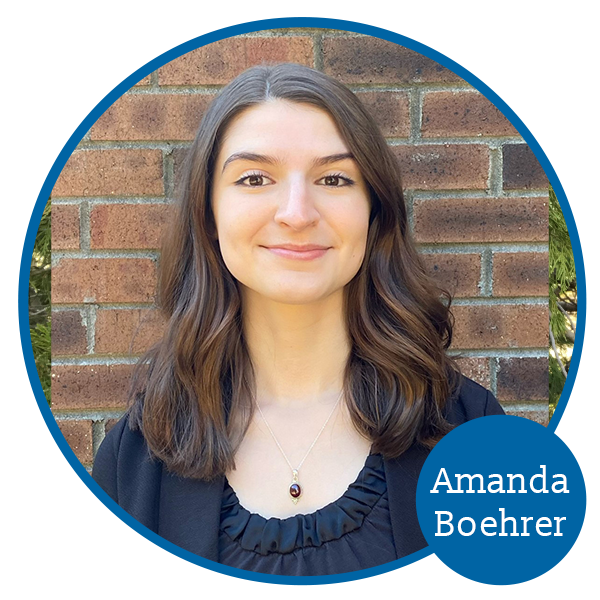 Amanda Boehrer
Amanda is a first-generation college student, and graduated summa cum laude from Clayton State University in 2020 with a B.A. in Sociology. While an undergraduate, Amanda had the opportunity to study abroad in Guyana, present research at the 2020 Georgia Collegiate Honors Council, and volunteer with assisting immigrants with the naturalization process as well as probationers finding vital resources to foster their reintegration into society. Also as an undergraduate, Amanda was selected out of hundreds of her peers to receive the Outstanding Achievement in Sociology award which is given to the one student who is deemed most likely to positively affect the field of study in their lifetime. Amanda worked full-time at a local sheriff's office when she first began the MLFP program, however was recently hired in an administrative role with the Department of Justice. Amanda hopes to utilize the knowledge and education she received through the MLFP program to obtain promotional opportunities within the Department of Justice, with the ultimate goal of becoming a behavioral analyst with the organization.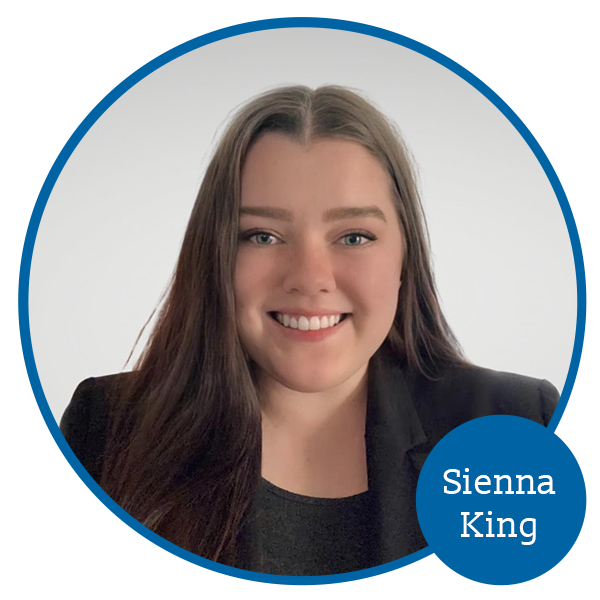 Sienna King
Sienna was five years old when it was first discovered she was deaf. Being the first deaf person in a hearing family had its challenges, however her family provided an improved and more accessible education for Sienna that allowed her to learn American Sign Language (ASL). Once her mother advocated for Sienna to have her school district provide ASL interpreters, Sienna's grades significantly improved, allowing her to graduate high school early and be the first person in her family to attend college. Sienna graduated from Rochester Institute of Technology in 2019 with a B.S. in Criminal Justice and Political Science, with a minor in Psychology. Sienna then became the first person in her family to attend graduate school, and has successfully balanced the MLFP program while working full-time as a Mental Health Discharge Planner working under Virginia's Department of Public Health and Sciences' Forensic Grant. In this role, Sienna is working to determine if this grant is beneficial for those incarcerated with serious mental illnesses, and with her MLFP degree, she hopes to further research the psychological principles and research regarding the legal processes in her city's local jail and vulnerable populations. Sienna is also completing her certification as a Substance Abuse Counselor, and is applying for a multitude of federal jobs in the field of Legal and Forensic Psychology.
Sydney Zuiker
Sydney is a first-generation college student, graduating in 2015 from the University of Texas at Austin with her B.A. in Social Work. Being the first person in her family to pursue an advanced degree also gives Sydney an enormous sense of pride. When Sydney applied to the MLFP program, she mentioned a goal of wanting to launch the program she oversees at Crime Stoppers of Houston into a full-fledged public safety and crime prevention institute. Over the past year, Sydney was promoted to Director, and has now achieved her goal by successfully establishing her program as the Safe Community Institute (SCI), which includes a new Research Center that tracks crime trends and reports for the community that provides them with the knowledge they need to stay safe. Sydney also serves as the Executive Producer of her organization's podcast, The Balanced Voice, and was proud to be recognized as a Houston Business Journal 40 under 40 honoree in 2021 for her work in her community. Sydney indicates her coursework in the MLFP program has already greatly assisted her in making critical decisions at work and hopes that her MLFP degree will not only continue to inform her on relevant policies and programs in the state of Texas, but also enable her to be on the forefront of research that influences critical policy change.  
2021 MLFP Scholarship Winners
Yuliya Iskendzerava
Edna Montes
Andrea Morales-Casasola
2020 MLFP Scholarship Winners
Serenity Cripps
Clara Ramirez
Cornise Seawood
2019 MLFP Scholarship Winners
Joi Goynes
Iris Mejia-Cobian
Joshua Phillips
Amanda Wagner